Bachelorette Parties
Accommodations
If you are planning your Bachelorette Party in New Orleans
Our multi-bedroom French Quarter Suites, French Quarter Townhouses, New Orleans Guest Houses, and Mansions will provide the perfect setting for you. Properties may be rented individually for Bachelorette Parties as small as four people or in any combination to accommodate up to 96 Guests.
Don't forget to ask about Party Favors, Hangover Bags, Combination Packages and Catering, Food and Beverage options.
Get the party started now!

New Orleans nightlife, dining and entertainment begin right outside your front door. As our Guests you will have access to specially priced stretch limousine service to and from the New Orleans International Airport, our favorite restaurant and music recommendations, and assistance with reservations for just about everything from haunted cocktail tours, swamp tours, plantation tours, cemetery tours and Garden District tours to a variety of on-site and off-site day spa services or private nighttime events through New Orleans Bachelorette Parties (see below).
---
Koozie Bling Bowl:
Girls just want to have fun!
A final night of Single Life before the Bride becomes a Wife
Presented in a clear bowl with silver confetti in the bottom and filled with individually stuffed Koozies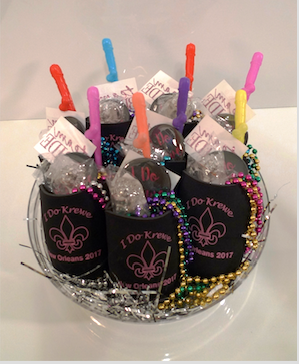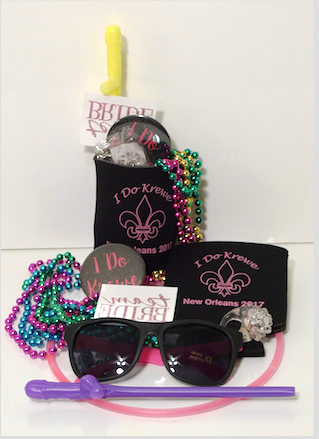 Contents include:
I Do Krewe Koozie to keep your drink cold and you hands warm
Fun straw to sip through so you don't mess up your lipgloss
Mardi Gras beads because, well it is New Orleans!
Blinky ring so you can find each other in the crowd
I Do Krewe Button because you never know when a pin will come in handy
Team Bride or Buy Me A Drink Temporary tattooo for solidarity
Glow stick necklaces to shine a light on your beads
(optional) Sunglasses to dim the light of the morning after!
Recover from a weekend of partying presented in a black organza bag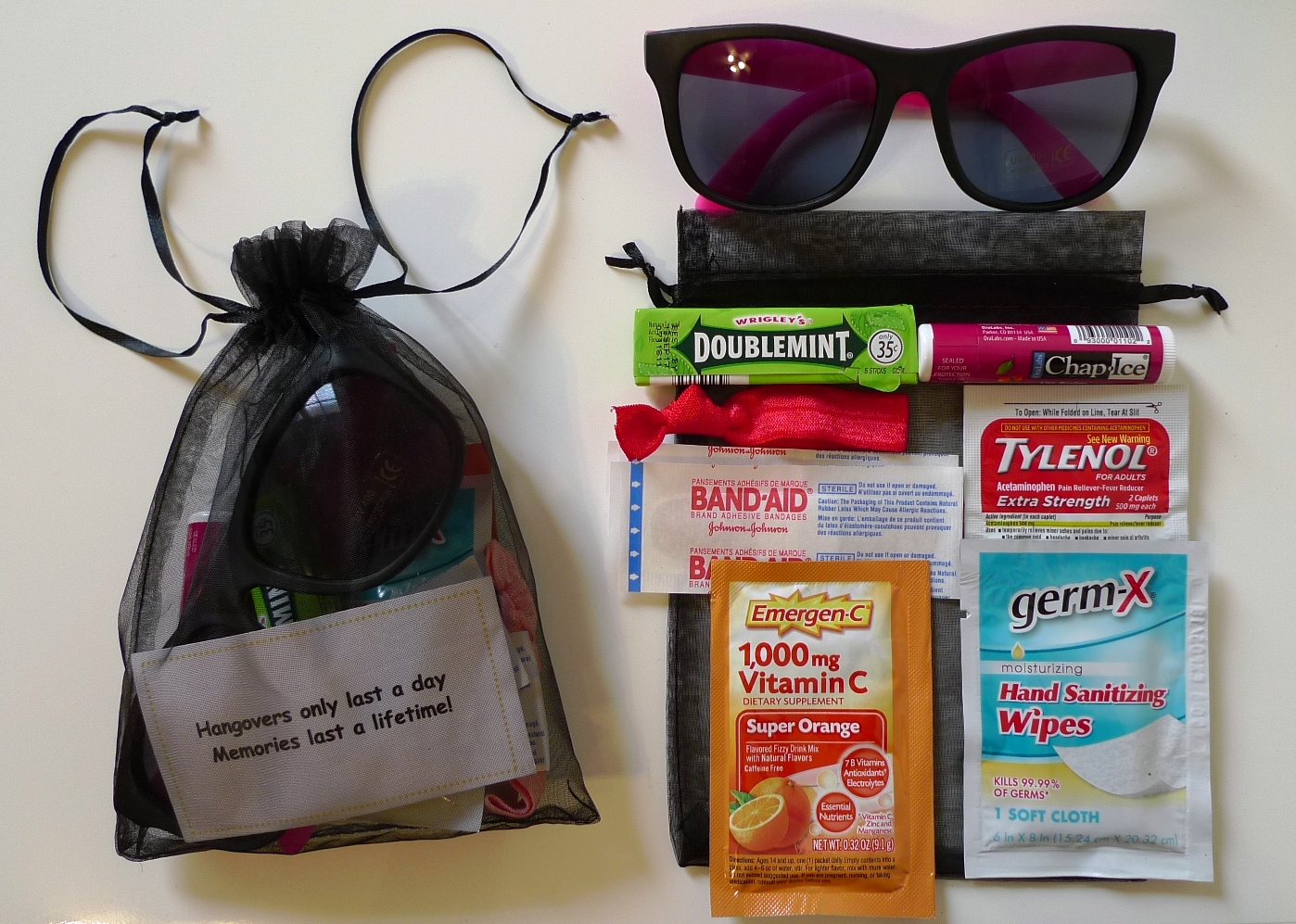 Contents include:
Hair tie to hold your hair so your frineds won't have to
Germex because you never know ;-)
Band Aids because pretty shoes aren't always comfortable
Tylenol (no explanation needed)
Emergen-C for a vitamin boost
Gum to freshen your breath
Lip Balm to keep your lips soft and smooth
Sunglasses to dim the light of the morning after

Combination Hangover Bag and Koozie Bling Bowl with party games, banner and sash
Bowls filled with all you need to celebrate and to help you recover from all that fun.
Each version below comes with all the contents of Hangover Bags and Koozie Bling Bowl plus 4 party games, Sparkly Bachelorette Banner, & Bachelorette Sash

Presentation I - Grab Bowl
Clear Bowl with Opalescent confetti in the bottom and all the goodies placed loosely inside so that each person can grab what they like. Beads surround the bowl.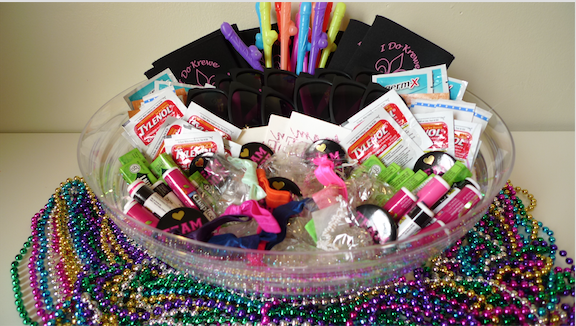 Presentation II - Individually Stuffed Koozies
Clear bowl with silver confetti in the bottom and filled with individually stuffed Koozies so each person just grabs a Koozie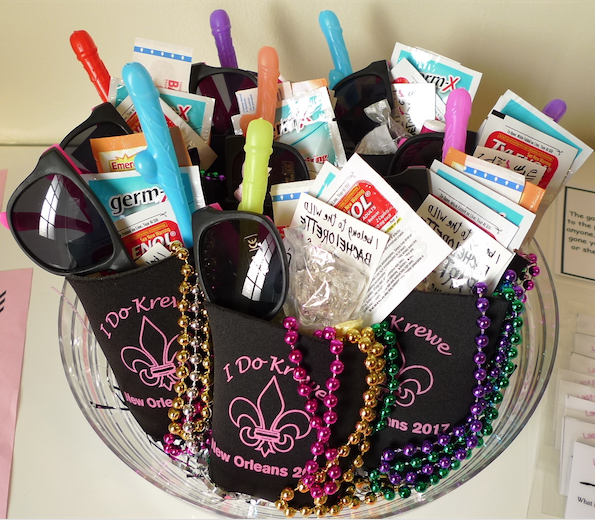 A-la-carte
Blinky Rings, Glow necklaces, Sunglasses, Party Games, Banners, Sashes, Koozies
ask for pricing
Below is a sample of our party menu. Please note that prices are subject to change until your order is placed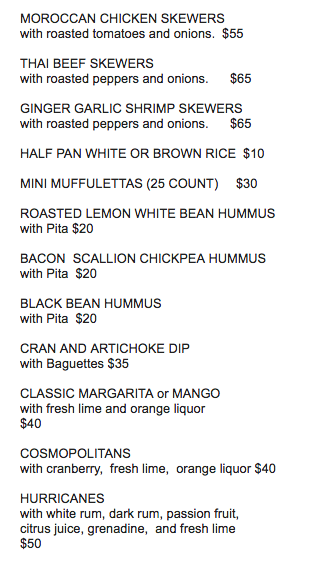 Don't waste time shopping. Get the party started the minute you walk through the door!!
for a samll service fee all the food and beverages you desire will be waiting for you upon arrival
Give us your custom list or we'll give you one to select from. It's that simple!
Our Limousine partner is American Luxury Limousine 800-631-5466 tell them you are a guest of Inn The Quarter and are looking for our
corporate rate account number 1811. You can pay them directly
---
Entertainment





Located on Royal Street in the French Quarter
Services must be booked in advance and are offered in-spa or at your private accommodations.
Minimum purchase may apply.

1 1/2 hours - $115 per person and up
Enjoy an intimate gathering of friends for some memory sharing and memory making as you indulge in champagne and pampering in our cozy spa. Make this part of your bachelorette party festivities.
Includes manicure, mini-pedicure, and mini-facial or 30 minute massage.
Additional services may be added.

3 1/2 - 4 hours $250 per person and up
Our ultimate package includes a manicure, pedicure, custom facial, and full body massage or reflexology.

2 1/2 - 2 hours 45 minutes $165 per person and up
Esthetic beauty will be yours with this service. Well manicured nails, fabulous feet and glowing, soft skin. Includes a manicure, pedicure and aromatherapy body polish. Add a 30 minute massage for the ultimate in stress relief.

Custom combinations also available


---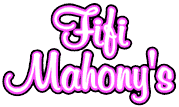 Located on Royal Street in the French Quarter

For a fashion or fantasy make-over before your night out on the town visit FiFi Mahoney's or have one their make-up artists come to you. From contemporary make-up to wigs and false eye lashes
Advance reservation required
Minimum purchase may apply

After-Hours Parties are from 6-8pm on Thursday, Friday, or Saturday and start at $200 per group of 8. Guests are given a personalized Fifi's experience and a great start or "pre-game" to an evening in the quarter. We provide a bottle of Champagne and allow guests to try on wigs in a private party atmosphere. We also offer eyelash and "glitter-eye" application for an extra $15 per person.
---


Lingerie and Toy Parties
by Vanessa Burford




Have a FUN & FABULOUS Lingerie & Toy Party with Your Girlfriends!
Vanessa's parties entertain, educate, and empower women. No men or kids allowed: it's all about the girls!
Eager to have a fun night together wih the comfort of shopping in a friendly environment

Here are just a few reasons to have have your afternoon or evening party with Vanessa?
FUN: You'll laugh until your stomach aches or crack up at your friend's "TMI" conversation.
TASTEFUL: Guests are often pleasantly surprised after attending a "Slumber Party" because they felt so at ease thanks to a well trained and professional Slumber Parties Consultant.
EDUCATIONAL: Open discussion about subjects which are often taboo in public. Women deserve to know this information, and there is no better forum than in the privacy of your home with your closest girlfriends, neighbors and co-workers. You all learn together while laughing.
CONFIDENTIALITY: Guests shop one at a time in a private room. Nobody knows what anyone bought or how much they spent, not even the hostess.
GUESTS GO HOME WITH THEIR GOODIES: Products are in stock, which means everyone goes home with her goodies instead of waiting.
Call Vanessa at 504-296-0887 and tell her Inn The Quarter sent you!


---


The New Orleans Penthouse Club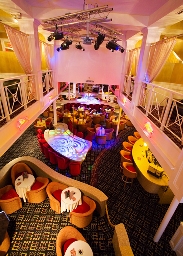 If you prefer to take your Bachelorette Party out on the town try an evening of unsurpassed elegance in the newest and largest Adult Club in New Orleans. Traditionally a spot that caters to the guys, The Penthouse Club management is happy to arrange an entertainment that cater to the ladies instead.
For the ultimate party experience, the Penthouse Club New Orleans offers The Executive Suites. These executive suites each offer a private setting for Hors d' oeuvres, cocktails and live entertainment.
Ask for our complimentary drink tickets and VIP service at the Penthouse Club.

---
Hang out with the locals just one block outside the French Quarter in the Faubourg Marigny. This neighborhood is home to a three block stretch of Frenchmen Street between Esplanade Avenue and Royal Street where you will find the current epicenter of the New Orleans music scene. Treat yourself to an evening of world class Jazz, Funk, Rock, Blues, Cajun, Zydeco, Latin music, and more. Check offbeat.com for music listings at Snug Harbor, D.B.A., Spotted Cat, Apple Barrel, Blue Nile, and Balcony Music Club.


---


Food
Dining is a passionate art form in New Orleans. Whether you are looking for Cajun, Creole, French, Soul, American, Italian, or any other cuisine from around the world, New Orleans restaurants and chefs are world-renown and award-winning … and will make your visit to New Orleans an unforgettable experience! See some of our favorites on our Restaurants page.


---


Bourbon Street



Dj's, dance clubs, Hurricanes, Hand Granades, and if you're still standing!